Borsa İstanbul Point-of-Presence in London Equinix LD5
Borsa İstanbul launches its Point of Presence (PoP) service to extend its market data infrastructure worldwide. As of January 2015, data vendors have an access to Borsa İstanbul's market data offering via London Equinix LD5.
Borsa İstanbul London LD5 PoP service offers:
access to real-time data of all Borsa İstanbul's markets and of EDDN members
a secure Fiber Optic Network connectivity option to Borsa İstanbul, with a maximum delay of 50 msec (roundtrip max. 100 msec)
redundancy provided by two separate lines to Borsa İstanbul main campus and one line to the Borsa İstanbul Ankara DR location
Location redundancy via London Global Switch Data Center
The live data stream is provided to the customer at the switches on LD5. The system works with backup switch and backup network connection.
Figure 1. Topology of Point-of-Presence in London Equinix LD5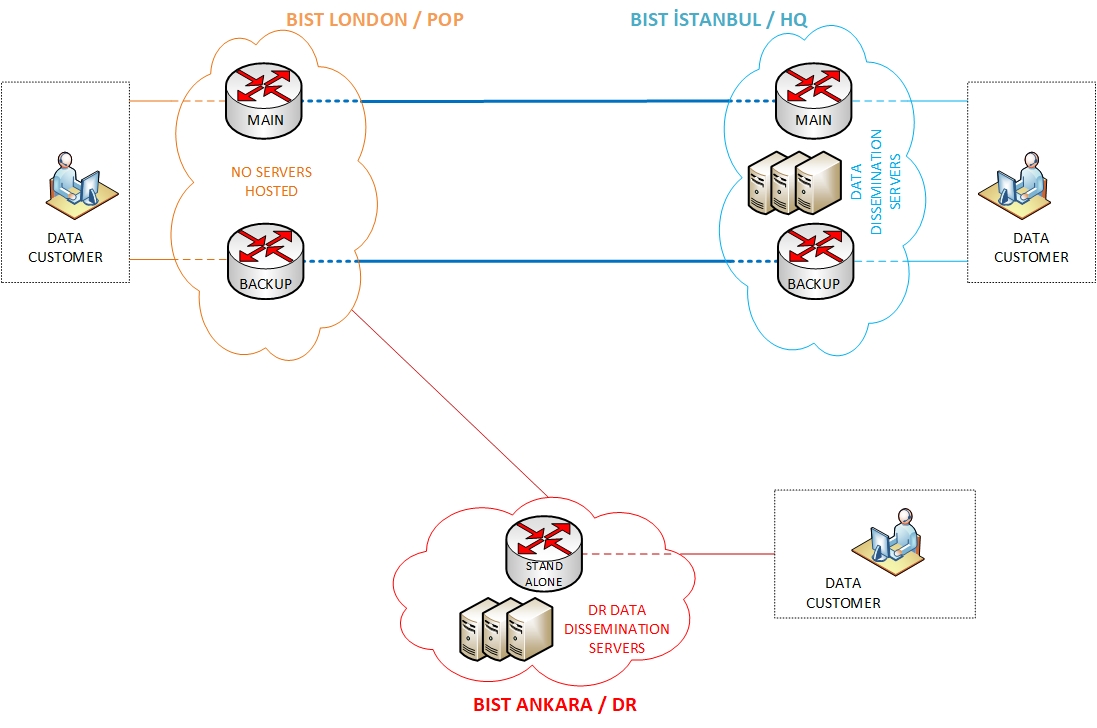 The address of the Borsa İstanbul London PoP location is:
Equinix LD5 – London Slough IBX Data Center
8 Buckingham Avenue Slough Trading Estate
Slough Bershire SL1 4AX
United Kingdom
Please contact Borsa Istanbul via vyk-marketing@borsaistanbul.com to get more detailed information or to connect Borsa Istanbul market data at London PoP.