Primary Data Center
Highly secure and reinforced cabinets. Compatible with universal earthquake levels 1, 2, 3, 4.
24/7 secure access and monitoring system
Redundant Tier 3+ cabling solutions of advanced technology
Redundant power solutions of advanced technology
Cooling infrastructure fixed at a certain temperature interval, operating in redundancy.
Delivery receiving and acceptance of Goods services
Redundant 1G/10G network connections directly connected to the data dissemination and trading system infrastructure.
Cooling infrastructure fixed at a certain temperature interval, operating in redundancy
Smart PDU systems for the periodical (monthly/yearly) monitoring and measurement of electricity consumption
24/7 active fire alarm sensors
High level security for cabinet lock system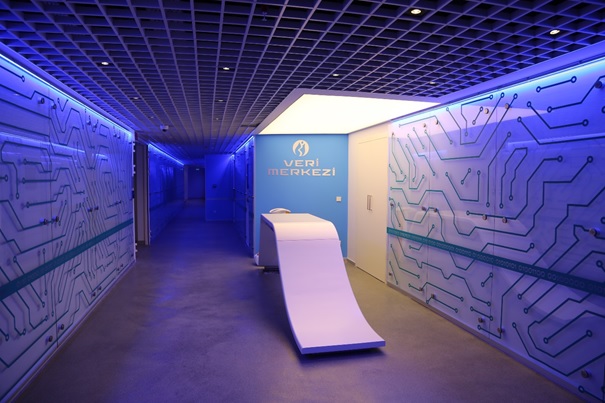 Co-location
Overview
Borsa İstanbul CoLocation service enables its clients to place their equipments at Borsa İstanbul Data Center in which the Exchange's market systems are also located. Thereby clients have the opportunity to access the market systems in a faster and more reliable manner.
With its CoLocation service Borsa İstanbul aims to reach variety of market participants including Members, HFT/Algo firms, Service providers that are seeking the highest possible access speed.
Why CoLocation?
Fastest Access to Exchange's Systems
Under normal conditions, roundtrip latency (software+network) provided under CoLocation is around;
100 µs with FIX
60 µs with OUCH
Fairness
Borsa İstanbul provides same cabling length from each cabinet to the trading system within its CoLocation service.
Risk Mitigation
With its state of art Data Center, Borsa İstanbul offers the most secure and advanced solution to its customers.
With its state of art Data Center Borsa İstanbul offers the most secure and advanced solution to its customers. All components (connections, energy, cooling systems) are provided redundantly. Upon demand on-site support is granted by well-trained Borsa staff.
Other
Borsa İstanbul provides the appropriate infrastructure for HFT/Algorithmic trading. https://www.borsaistanbul.com/en/products-and-markets/technology-services/colocation
Co-location Services
Basic Service (Hosting)
Half / Shared Cabinets in DC
1.5 kW energy service with UPS backup
Cooling infrastructure fixed at a certain temperature interval, operating in redundancy
Smart PDU systems for the periodical monitoring and measurement of electricity consumption
20 hours of Remote Hands services, for the first 3 months,
3 x Cross connection (connection to other customers hosting in DC)
Market Connectivity
1 GB/sec fiber and copper connections to access to Exchange's market systems
10GB/sec fiber connections to access to Exchange's market systems
Additional Cabinet, Power, Connectivity
Upon the hosting service, customers have the option to purchase additional cabinet, power and external/internal connections.
Other IT services (System & Operation)
Remote Hands Service
Storage – Warehousing Services and Installation Area Usage Services
Site visit reservation and accompaniment services
Cabinet Reservation Program
Cabinet change service
Other IT services (Application & Software)
Dedicated Gateway Service
Market Data
ITCH (market by order) and standard market data (market by price) are not provided within the scope of CoLocation service. To get real time/historical ITCH and/or standard market data, please contact with Exchange.
Time Server Service
Borsa İstanbul Time Server service, enabling to receive time information provided by "National Institute of Standards and Technology" (NIST) which is accepted as standard by regulatory authorities, went live. Time information may be received with millisecond sensitivity (NTP) or microsecond sensitivity (PTP) via this service.
While using Time Server service for its own needs, Borsa İstanbul also offers the service to its members and investment companies.
Institutions aiming to synchronize their system time with NIST by using Borsa İstanbul Time Server Service are welcome to contact with Borsa İstanbul Marketing and Sales Department.
Questions- answers regarding Time Server Service;
What are the specifications of the system established in Borsa İstanbul which enables sensitive time synchronization with NIST via satellite?
The system consists of Microsemi's TP-5000 devices which are top-class equipments in this field. Many institutions that grant time server service including NIST use TP-5000 devices in their infrastructure.
Why should we use Borsa İstanbul's Time Server infrastructure to synchronize our time with NIST?
As it is known, either domestic or international regulation requires financial institutions to use NIST time in their systems. Borsa İstanbul offers the financial institutions the opportunity to reach the NIST time with its infrastructure.
Are NIST time and Borsa İstanbul's time exactly same?
The time deviation between Borsa İstanbul's time and NIST's time is ± 100ns (nano second). In other words, the infrastructure established in Borsa İstanbul for Time Server guarantees ± 100ns of deviation at most.
Which protocols can be used to receive time information from the system?
The established infrastructure in Borsa İstanbul is suitable for both NTP and PTP. Either or both of the protocols can be used depending of operating system (Window, Unix etc.) and hardware you use.
Which protocol (NTP or PTP) is more sensitive to receive time information?
NTP protocol offers 10-3 (1 millisecond) sensitivity whereas PTP protocol offers 10-7 (100 nanoseconds) Members with servers in colocation area are suggested to use PTP and/or NTP whereas members accessing Borsa İstanbul via wide area network are suggested to use NTP only.
Is there any possibility for the system to send incorrect time information?
TP5000 communicates with multiple satellites via GPS simultaneously to receive and distribute time information. In order for Borsa İstanbul Time Server System to send incorrect time information is to receive incorrect information from GPS. In case the communication disconnected between satellite and GPS, Rubidium Oscillator inside the device steps in to transmit the time through the system accurately up to 1 month.
What does time information complies with MiFID II mean?
MiFID (EU-Markets in Financial Instruments Directive), an EU regulation for financial institutions, requires several basic and general legislation. According to Microsemi, MiFID II dictates at least 100 us accuracy (micro seconds) with NIST.
Does time information received through Borsa İstanbul Time Server System comply with MiFID II?
Borsa İstanbul Time Server infrastructure consists of TP5000 NTP/PTP server PRTC devices thereby offers time information with 100ns accuracy to UTC. In other words, the devices used in the infrastructure can transmit time 1000 times better than MiFID II requirement.
What is the up-time SLA for Borsa İstanbul Time Server Service?
According to Microsemi, IOC (Rb) up-time of the two TP5000 devices working 1:1 backup is %99.9999. Borsa İstanbul provides double-full redundancy by using two identical systems.
Also, the satellite system established for Time Server System is double-full redundant. Each satellite dish receives the GPS information from 8 different satellites.
Has Time Server System been launched?
Yes, currently all Borsa İstanbul systems receive time information from Time Server System.
Is there any other stock exchange using the same system Borsa İstanbul does?
Stock Exchanges using the system can be seen in below map.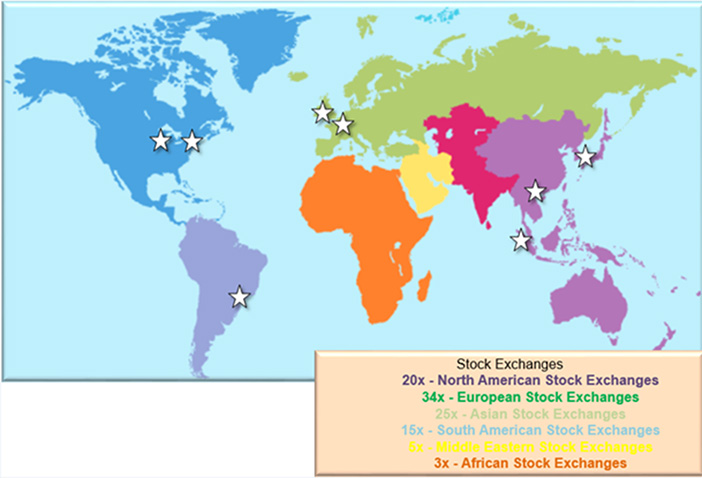 Risk Management
PTRM
PTRM is a risk management application developed in an integrated way with the trading and clearing platforms to control and monitor the risks involved due to the orders entered and trades executed on BISTECH. With the application, the risk of the orders sent to the system from BISTECH Trading Workstation, FIX and OUCH protocol and the risk of the trades executed are checked. Risk controls can be applied at different stages being before the orders are accepted by the system (pretrade) and after they are accepted (at-trade).
With BISTECH PTRM application,
- risk group checks
- user and account based validations
- account based margin check
may be performed.
Performed risk checks and their results may be tracked with PTRM Graphical User Interface (PTRM GUI).
| Pre-Trade Risk Management* | At Trade Risk Management |
| --- | --- |
| Maximum Quantity Limits | Position Risk Limits |
| Restricted Instruments | Order rate limits |
| Price Check Tolerance | |
* Detailed information about all risk limits for each group stated in PTRM user guides.
Maximum Quantity Limit: This limit is set to define the maximum quantity of an order sending to the matching engine. Maximum quantity limit can be defined in terms of quantity, volume, value of the order at market and/or instrument level. Maxi. Quantity Limit is controlled whilst order entry and amendment.
Instrument Limits: Users within a defined risk group can only trade at the instruments allowed for that risk group.
Risk Limits: Risk exposure of users entering order into the system is controlled by risk group checks. The exposure of the users withing the same risk group are calculated together. This combined exposure can be limited according to nine different risk checks.
Order rate limits: Order rate limit measures the rate of the orders entered into the trading engine from all users of a risk group. Order rate limit check is based on new orders inserted into the book.
COD (Cancel on Disconnect)
FIX and OUCH API user's active orders in the order book could be automatically inactivated (suspended) in case of connection loss in the BISTECH Trading System (System). Although this functionality is actually inactivation of passive orders, it is widely known "cancel on disconnect" facility. This service is provided to the trading members only if requested. Automatically suspended (inactivated) orders could be reactivated via Trader Workstation (TW).
Circuit Breaker
In case price change calculated by a certain reference value reaches or exceeds threshold values (rates) determined by the Exchange while transactions in a stock are carried out with continuous trading method in the session, transactions of the related stock will be temporarily halted and carried on to the order collection stage of a call auction.
At this stage price is determined in a call auction using single price method in the related stock. Then the related stock is again taken to continuous trading and transactions are continued after processes single price method are completed.
Circuit breaker page for click.